Jim Long, President and CEO Genesus Genetics
U.S. hog slaughter continued unabated with 2,713,000 last week, jumping up from the two holiday-shortened weeks previous. We do expect weekly hog marketings to drop soon and/or hog weights to decline rapidly.
U.S. average cash early weans were steady at $61.46 while 40 lb feeder pigs jumped $6.00, up to $67.60. The canary in the coal mine is small pigs, a reflection of supply and demand. They have shown a 70% increase in the last few weeks.
U.S. pork exports in November were the best ever.
Up 26% from a year ago.
Up 11% from the previous high in July 2019
November Pork exports of 259,812 metric tonnes are over 3 million hog equivalent. China/Hong Kong lead way with 86,213 metric tonnes, up 284% from a year ago. We need to export and we are.
Last week (January 3rd) the German Ministry of Agriculture confirmed that African Swine Fever (ASF) was present in Poland 20-30 km (12-20 miles) from the German border. If ASF gets into Germany could be game-changer. China is importing approximately 16-18% of pork imports from Germany. Up until now, China has not been accepting any Pork from ASF countries i.e. Russia, Poland, Romania, Ukraine, etc.
The Phase 1 tariff agreement between the USA and China is reported to be signed on January 15th when a Senior Chinese delegation comes to Washington. Pork and Ag is supposedly a key component. We should see details after the signing is completed. Clarification could lead to a boost to Pork prices.
We believe that our industry should produce Pork consumers want to eat for its taste and flavour. This past week we were in Iowa Falls and visited a Fareway store. They offer Duroc Pork sired by Genesus (Purebred Registered Durocs). We saw a huge price difference.
| | |
| --- | --- |
| Duroc (Genesus) boneless chops | $5.00 (2 chops) |
| Other Boneless chops | $5.00 (3 chops) |
| Duroc (Genesus) bone-in Pork chops | $3.49 lb. |
| Thick cut bone-in Iowa chops | $1.98 lb. |
(Good chance the "Other" could be sired by pretending Duroc, all Durocs are not the same)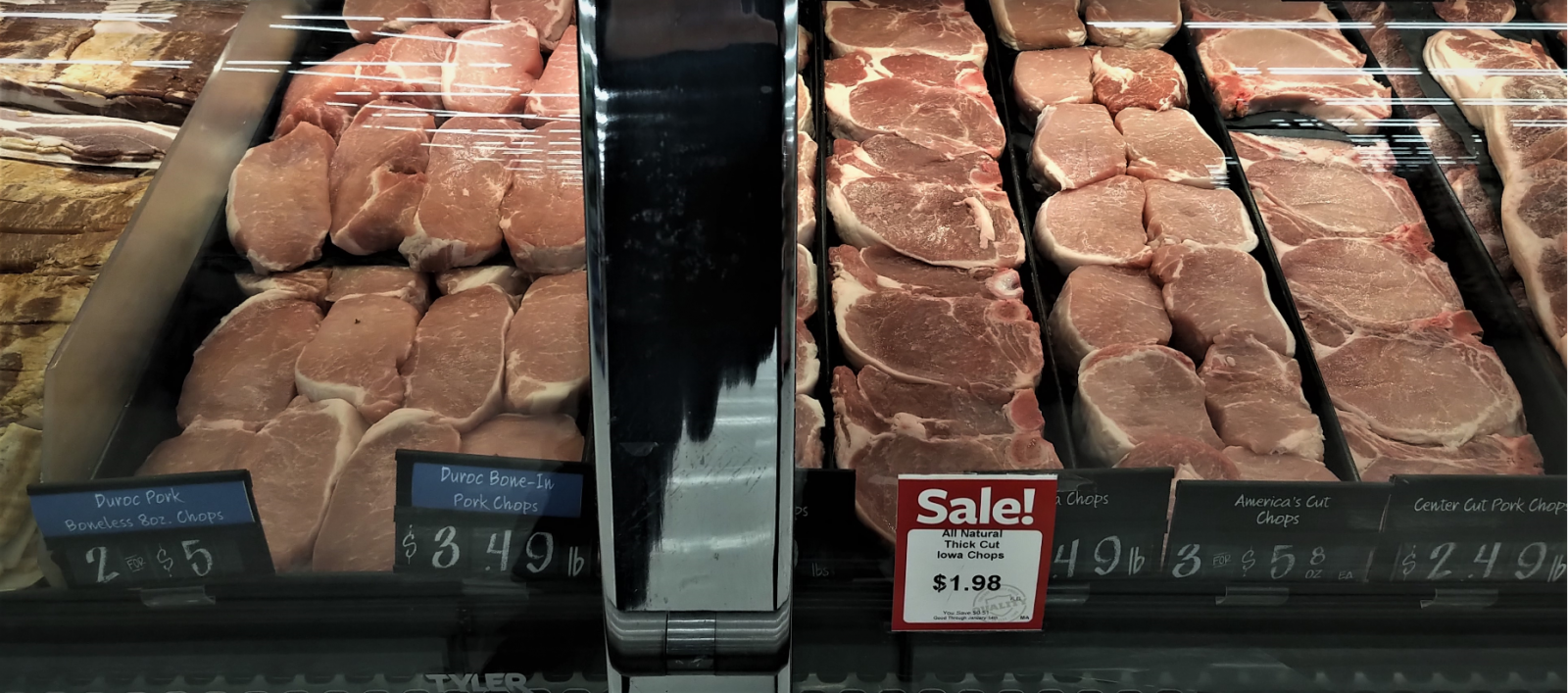 Quite the price difference isn't it. As you can see by the picture it was a fresh meat counter. We asked the butcher why the price difference. He replied the Duroc (Genesus) Chops taste better, that's the only pork he eats himself. He said he was surprised by the demand, that in Iowa Falls people would pay such a premium for the Duroc (Genesus) taste.
To say we were proud to see and hear the butchers' comments is an understatement. We (Genesus) have invested millions to create genetics that is cost-competitive in production with the added bonus of better tasting pork.
It's sad when we hear from industry people consumers won't pay for better tasting pork. It appears in Iowa Falls they will. When will we figure out as an industry the people of New York City and Los Angeles will too. Taste Creates Demand. Demand drives price.
Genetic Round-Up
Last week we wrote about our observations of the 4 major global Swine Genetic Groups; PIC, Topigs-Norsvin, the Danish and Genesus. Some of our competitors didn't much like what we said. Some didn't like our observations that the former CEO's want to sell grass seed and medical devices. Some thought it funny that our plans weren't to leave Genesus to sell grass seed. Probably the world's biggest didn't like their 5-year profit trend line. The emperor has no clothes comes to mind.
To Sum up:
The Global Swine Genetic business is a rough game. The attrition of players over the last decade has been intense. As one person wrote to us last week, ones that don't get it should watch the Bruce Willis movie "Last Man Standing". Sums up the battle for the world's swine producers.
Get acquainted with the Global Mega Producer
A program of recognition led by National Hog Farmer sponsored by Genesus Inc.
Iowa Select Farms, United States
Iowa Select is once again recognized as a Global Mega Producer for 2019.
Iowa Select, now 242,500 sows was started in 1992 with a contract and financing for 10,000 sows. With a current marketing number of more than 4 million pigs per year, Iowa Select has more than 800 farms in 50 counties and is one of the leading economic engines for rural Iowa communities.
The business employs and contracts more than1,850 Iowans'.
Iowa Select is a Premier Pork business in the United States.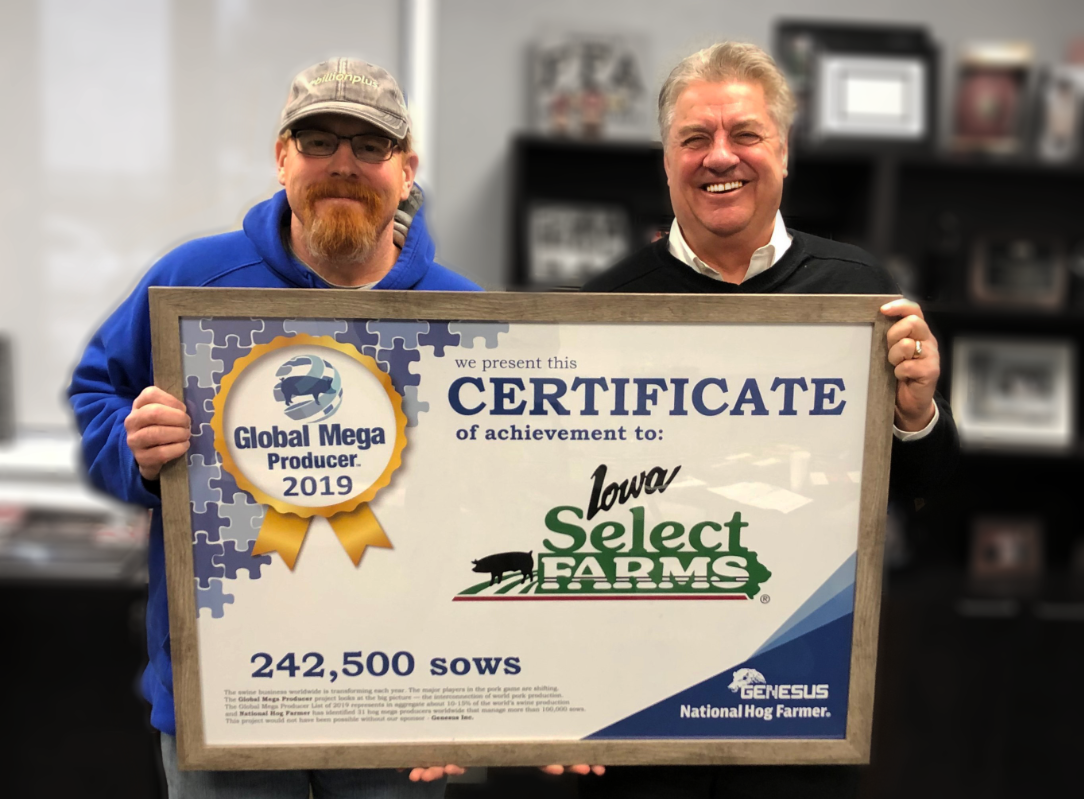 Noel Williams, Chief Operating Officer, Iowa Select (left) and
Jim Long, President-CEO Genesus Genetics (right)