Reuters News reported today that, "World food prices fell for a third consecutive month in June, but remained close to record high levels set in March, the United Nations' food agency said on Friday.
"The Food and Agriculture Organization's (FAO) food price index, which tracks the most globally traded food commodities, averaged 154.2 points last month versus a revised 157.9 for May.
"The May figure was previously put at 157.4."
The Reuters article pointed out that,
Despite the monthly decline, the June index was still 23.1% higher than a year earlier, pushed up by the impact of the Russian invasion of Ukraine, concerns over adverse weather, strong global demand and high production and transport costs.
Today's article added that, "In separate cereal supply and demand estimates, the FAO raised its forecast for global cereal production in 2022 to 2.792 billion tonnes from a previously given 2.784 billion. This is still 0.6% short of the world output in 2021."
Also today, Dow Jones writer Yusuf Khan reported that, "Much of the fall was led by a drop in cereals–something which has been key since the start of Russia's war in Ukraine. The FAO Cereal Price Index averaged 166.3 points in June, down 4.1% from May, but still 27.6% above June 2021. Wheat prices eased 5.7% in May but were still 48.5% higher than a year ago.
"This fall in prices was led by improved crop conditions, higher Russian exports and seasonal availability from new harvests in the northern hemisphere, the FAO said."
And Bloomberg writer Aine Quinn reported today that, "Food prices still remain very high and, along with expensive fuel, are contributing to a cost-of-living crisis that's led to worker strikes in some countries. A more sustained downturn in food prices will be needed to bring relief to strained consumers, Arif Husain, chief economist at the UN's World Food Programme, said in an interview this week."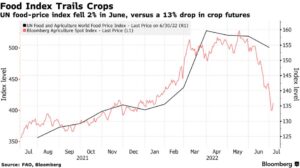 Meanwhile, Sudarsan Raghavan reported on the front page of today's Washington Post that, "Before the invasion, Ukraine and Russia were among the world's top producers and exporters of grains, cooking oil and fertilizers, and together provided nearly all of Somalia's wheat. The disruption of crude oil from Russia has led to soaring costs for fuel, transportation and food production. Food prices, already at record levels here because of drought and the pandemic, have climbed ever higher as Russia continues to block Ukraine's primary export route through the Black Sea.
"'The crisis is worse now than anytime in my lifetime working in Somalia for the last 20 years, and it is because of the compounded effect of the war in Ukraine,' said Mohamud Mohamed Hassan, Somalia country director for the charity Save the Children. 'Communities are at a breaking point.'
"Last month, Russia's Defense Ministry offered to grant passage to ships carrying Ukrainian grain and other goods — but not until Western sanctions are lifted. Russia's blockade has been declared a 'war crime' by the European Union's top foreign policy official: 'You cannot use the hunger of people as a weapon of war,' implored Josep Borrell last week at a meeting of E.U. ministers in Luxembourg."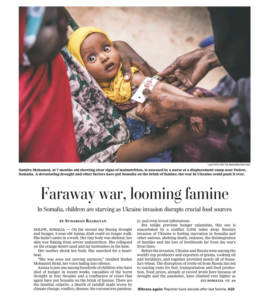 Today's article indicated that, "More than 18.4 million people in Somalia, Ethiopia and Kenya are now facing acute food insecurity, according to the United Nations."
Reuters writer David Brunnstrom reported today that, "U.S. Secretary of State Antony Blinken addressed Russia directly at a G20 foreign ministers meeting in Bali on Friday and called on Moscow to let Ukrainian grain out to the world, a Western offical said.
'He addressed Russia directly, saying: 'To our Russian colleagues: Ukraine is not your country. Its grain is not your grain. Why are you blocking the ports? You should let the grain out,'' the official said.
Elsewhere, Pia Singh reported in today's Wall Street Journal that, "Falling crop prices are threatening what has been one of the surest bets in the stock market over the past two years.
"Shares of fertilizer makers, including Mosaic Co. and CF Industries Holdings Inc., have been dragged down in recent weeks by declining prices for corn, wheat and other crops. Though fertilizer stocks remain above where they traded before the pandemic, they have since spring shed much of their 2022 gains."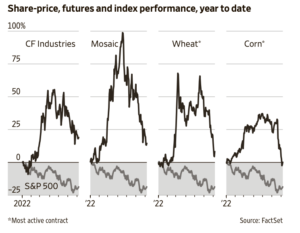 Today's article explained that, "Higher prices for fertilizer tend to hurt farmers and push up food prices, which have already increased rapidly.
"Crop prices have since eased, thanks partly to better growing weather in North America, Europe and Asia that has raised hopes that big crop yields can replace the staples that are stranded in Ukraine. Corn, wheat and soybean futures are all trading lower than they were just before Russia attacked. Meanwhile, stock investors have been selling off even their winners since the Federal Reserve began raising interest rates to tame inflation."
In more specific news regarding agricultural production, Reuters writer Pavel Polityuk reported today that, "Ukrainian farmers have threshed the first million tonnes of grain of the 2022 grain harvest, Ukrainian grain traders union UGA said on Friday.
"The union said farmers had harvested 355,800 tonnes of wheat with an average yield of 2.41 tonnes per hectares and 717,800 tonnes of barley with a yield of 2.82 tonnes per hectare."
Dow Jones writer Jeffrey T. Lewis reported yesterday that, "Brazilian crop agency Conab trimmed its estimate for soybean production for the 2021-2022 growing season after harvesting for the season was completed.
"Brazilian farmers produced 124 million metric tons of soybeans this season, the agency said Thursday. In June the agency estimated a crop of 124.3 million tons. Brazil produced 138.2 million tons of soybeans in 2020-2021."
Nonetheless, Reuters writer Roberto Samora reported yesterday that, "Brazil is expected to harvest a record wheat crop of 9 million tonnes in 2022, with growers sowing the largest area for this crop in the past 32 years, according to a survey released on Thursday by Conab, the country's food supply and statistics agency."
Reuters writer Ana Mano reported yesterday that, "Brazil imported record volumes of potassium chloride (Kcl) from Canada in the first half of the year, a sign that domestic farmers will have plenty of the fertilizer to nourish crops, boost yields and potentially expand area when sowing starts in September."
And Financial Times writers Silvia Sciorilli Borrelli and Amy Kazmin reported yesterday that, "Fabio Camisani usually wears thick rubber boots to keep his feet dry while surveying the muddy paddy fields of his 70-hectare rice farm south of Milan. But this year he has been walking the parched, baked land wearing sneakers.
"Meagre winter snowfall in the Alps, which has affected the flow of water from the mountains into northern Italy, and more than six months with almost no rain since, have left his crop of high-end Carnaroli rice, used for risottos, and Selenio, preferred for sushi and soups, on the brink of failure."
The FT article stated that, "Camisani's desiccated fields are casualties of the severe drought that has struck northern Italy's agricultural heartland, the worst climatic event since at least 2003, when a massive heatwave and drought killed 30,000 people and devastated agriculture production. Italian officials charged with monitoring river flows say the water shortage is the worst in 70 years."