In its monthly Livestock, Dairy, and Poultry Outlook report last week, USDA's Economic Research Service (ERS) stated that, "Pork exports in July were 508 million pounds, 8.5 percent lower than those of a year ago.
Higher exports to most major markets were unable to offset significantly lower shipments to China\Hong Kong.
"Canada was the only other major market to which shipments were lower in July."
The ERS report noted that, "Exports were 1.8 percent below a year ago through the end of July, and down 46 percent to China."
Last week's update added that, "Second-half pork exports are reduced to reflect expectations of continued lower shipments to China\Hong Kong."
"Total exports for 2021 are expected to be 7.334 billion pounds, almost 1 percent greater than exports in 2020," the Outlook report said.
The USDA's World Agricultural Supply and Demand Estimates report earlier this month stated that, "The pork export forecast for 2021 is reduced on recent trade data and expected slower demand growth from Asia; no change is made to the 2022 forecast."
More narrowly, Bloomberg writers Michael Hirtzer and Dominic Carey reported last week that, "Massive hog culling in the Dominican Republic after the outbreak of a deadly swine disease has led the country to stock up on U.S. pork.
"Exporters last week sold a record amount of the meat to the island nation, U.S. Department of Agriculture data showed Thursday. That's after African swine fever was detected in hogs there in late July, in the first outbreak in the Americas in four decades."
EU Pork Exports
With respect to pork exports from the European Union, USDA's Foreign Agricultural Service (FAS) indicated in a recent report ("European Union: Livestock and Products Annual") that, "During the first half of 2021, EU pork exports rose fourteen percent — with increased exports to China (+173,000 MT CWE), the Philippines (+82,000), Vietnam (+35,000), and Chile (+28,000)."
However, the report noted that, "FAS/Beijing forecasts Chinese pork imports to decline by 528,000 MT CWE in 2021 when compared to 2020."
FAS pointed out that, "Roughly sixty percent of Chinese pork imports are of EU origin, which could imply a reduction of more than 300,000 MT CWE of pork exports from the EU. A further expansion of exports to non-Chinese destinations, mainly the Philippines and Vietnam, and a recovery of exports to the UK is expected to largely offset the reduction of exports to China."
More broadly, FAS indicated that, "Since 2013, the EU has been the biggest pork exporter in the world, but it is facing increased competition from Brazil and the United States. Until recently, the EU swine sector, in particular the Spanish sector, has been able to out-compete other suppliers based on its reliability and flexibility in meeting market requests. To reduce the dependency on the Chinese market, the EU swine sector is looking at alternative markets."
Still, FAS added that, "An alternative market for the total volume of pork shipped to shipped to China, however, is currently not available, which creates a challenge for EU pork exporters."
Meanwhile, Reuters News reported last week that, "Another case of African swine fever (ASF) has been confirmed in a wild boar in the Uckermark region in the eastern German state of Brandenburg, the Brandenburg state health ministry said on Thursday.
"This is the second ASF case in a wild boar in the Uckermark region, which is away from the other areas of Brandenburg where ASF has been found large numbers of wild boar."
A separate Reuters News article reported earlier this month that, "Talks with China on lifting its ban on German pork imports after the pig disease African swine fever (ASF) was found in Germany remain difficult, German junior agriculture minister Uwe Feiler said on Friday.
"China and a series of other pork buyers banned imports of German pork in September 2020 after Germany's first ASF case.
"Germany is asking China to accept the 'regionalisation concept' which stops pork imports only from the region of a country where swine fever has been found instead of a blanket ban on sales from the whole country."
Chinese Pork Demand
Financial Times writer Hudson Lockett reported earlier this month that, "Officials said that China had fully recovered from the impact of African swine fever, which first arrived in the country in August 2018.  Outbreaks of the disease have continued to disrupt farms nationwide, according to analysts, but supplies have risen substantially after it effectively halved the size of China's hog herd in 2019.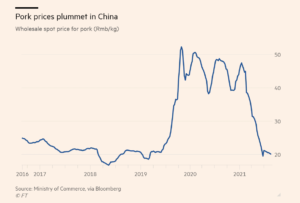 "Wholesale prices for pork have dropped about 54 per cent to Rmb20.17 ($3.12) per kilogramme, roughly where they were before the swine fever pandemic reached China.
But reports from local markets said demand had not returned to previous levels, which suggested that many Chinese consumers have permanently switched to other proteins.
The FT article indicated that, "'We've entered a period of structurally lower demand. We had years where [pork] prices were high and people switched to beef, chicken or fish,' said Darin Friedrichs, an analyst at Shanghai-based StoneX. 'It definitely seems like we've reached peak pork in terms of China's consumption.'"