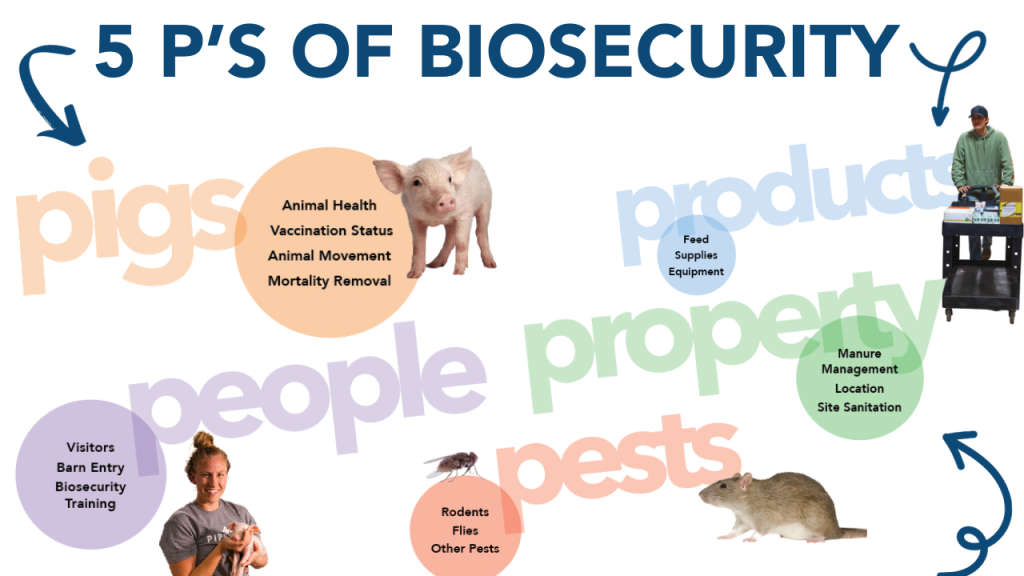 Disease does not stop at the sow farm; biosecurity protocols are beneficial in protecting our pigs when implemented in wean-to-finish sites. A helpful strategy to apply biosecurity is to remember the 5 P's: Pigs, People, Products, Property, and Pests. Dr. Rachel Stika Jensen, Veterinarian at Pipestone Veterinary Services, recommends the following products to enhance your wean-to-finish biosecurity strategy.
PIGS – consider animal health, vaccination status, animal movement, and mortality removal at your barn. Talk with your vet about your vaccination protocols for Porcine Reproductive Respiratory Syndrome, Circovirus, Mycoplasma hyopneumonia, and Ileitis vaccines. Injectable and water (oral) options are available.
PEOPLE – take a closer look at barn entry and biosecurity. Do you supply personal protective equipment for visitors and employees upon entry? Gloves, booties, Tyvek coveralls, and masks are available in a variety of sizes and styles and are easy to have on hand.
PRODUCTS – have you implemented feed mitigants or use disinfectants? Talk with your veterinarian or our knowledgeable swine resource team to answer questions about what products are right for your operation.
PROPERTY – study up on pit additives, barn supplies, and disinfectants to keep your facilities working for you. Proper manure management and site sanitation goes a long way.
PESTS – Nobody likes a pest; keep them out with proper use of sprays and baits for rodents, flies, and other pests.
Better wean-to-finish biosecurity standards are a must for producers to keep herds healthy and stay competitive. Work with your PIPESTONE veterinarian to assess the practices in your operation, benchmark your farm, and make a commitment to raise the bar on wean-to-finish biosecurity standards.