Bloomberg writer Megan Durisin reported last week that, "Global food costs jumped last month, extending a march toward a record and piling more inflationary pressure on consumers and governments.
"A United Nations index tracking staples from wheat to vegetable oils climbed 3% to a fresh decade high in October, threatening even higher grocery bills for households that have already been strained by the pandemic. That could also add to central banks' inflation worries and risks worsening global hunger that's at a multiyear high."
The Bloomberg article noted that, "'The issue with the inputs and fertilizers and its implications for next year's crop is a concern,' said Abdolreza Abbassian, a senior economist at the UN's Food and Agriculture Organization. 'By now, the market has factored in most of the supply and demand issues. But the market has by no means factored in next year's prospects in production.'"
And Reuters writer Gus Trompiz reported last week that, "The October reading was the highest for the index since July 2011. On a year-on-year basis, the index was up 31.3% in October.
"Agricultural commodity prices have risen steeply in the past year, driven by harvest setbacks and strong demand."
Meanwhile, Wall Street Journal writers Samantha Pearson and Luciana Magalhaes reported in Saturday's paper that,
Rising food prices are causing increasing hardship across a swath of the developing world, from Peru to the Philippines.
The Journal article explained that, "National governments and aid groups warn that the rise in food prices is translating into more hunger and malnutrition, especially for poor families already struggling with the other economic fallout of the Covid-19 pandemic.
"The rise has been particularly sharp in Latin America, where widespread inflation has pushed up the prices of most goods and the U.N. estimates that tens of millions of people are malnourished or skipping meals.
"In Asia, where countries have generally experienced less inflation, bad weather has hit crops, leading to price increases in some places. Heavy rains in India in recent months have caused flooding and landslides, destroying crops and sending up the price of vegetables such as cauliflowers and onions."
Saturday's article added that, "In China, heavy rains have also hit top vegetable-growing provinces, deepening supply shortages that have arisen as the nation recovers from the effects of the pandemic."
And in Friday's Wall Street Journal, Ryan Dezember reported that, "A poor harvest of spring wheat and concern over the winter crop have pushed prices for the grain to their highest levels in years and signal more food inflation ahead.
"Drought across the Northern Hemisphere is the main culprit. Strong demand around the world, snarled supply lines and rising costs of farm inputs, like fertilizer and fuel, are contributing."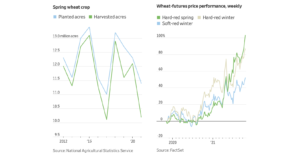 However, Bloomberg writer Megan Durisin reported last week that, "Even as wheat prices soar, some of the world's top buyers are piling in.
"Global trade of the staple grain will leap to a record this season, buoyed by an import frenzy in the Middle East, the United Nations said on Thursday. Iraq, Iran, Turkey and Afghanistan are all loading up after drought hit their harvests earlier this year, draining local supplies. Egypt is also replenishing stockpiles, the agency said."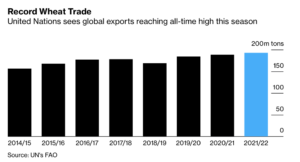 The Bloomberg article pointed out that, "Pakistan, China and Bangladesh have also been huge buyers, putting the global sales pace over the past four months on an unprecedented clip, Paris-based consultant Agritel said in a note on Thursday. Surging prices should ration wheat use or bolster production, but it's not clear that either has happened, it said."