Reuters writer Dominique Patton reported this week that, "China's third-quarter pork production surged to its highest in three years, official data showed on Monday, after producers built thousands of large breeding farms last year to rebuild a hog herd decimated by African swine fever.
Pork output for July-September was 12.02 million tonnes, up 43% compared with a year earlier, according to Reuters' calculations based on official data, and the highest since the third quarter of 2018, before China began feeling the fallout of the swine fever epidemic.
"China's pork output jumped 38% in the first three quarters of 2021 versus a year earlier to 39.17 million tonnes, the statistics bureau said."
The Reuters article explained that, "The surge in pork production was led by the largest producers who invested billions of yuan in new farms during 2020 in a bid to grab market share in the aftermath of the swine fever epidemic.
"But prices have plunged 65% so far this year, prompting some farmers to sell their herds and exit, while others took the opportunity to get rid of less productive sows.
"China's sow herd contracted by 0.5% in July compared with June, and by another 0.9% in August versus the month prior, according to data previously published by the Ministry of Agriculture and Rural Affairs."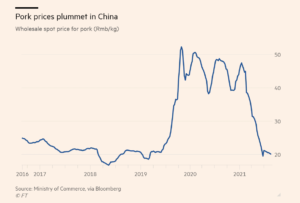 Ms. Patton added that, "China brought in 3.14 million tonnes of pork in the first nine months of the year, down 4.3% from the same period a year earlier, customs data also released on Monday showed."
With respect to China's soybean imports, Reuters writers Hallie Gu and Shivani Singh reported last week that, "China's soybean imports in September fell 30% from the same month the previous year, and hit the lowest for the month since 2014, customs data showed on Wednesday, as poor crush margins curbed demand.
"China, the world's top buyer of soybeans, brought in 6.88 million tonnes of the oilseed in September, down from 9.79 million tonnes last year, General Administration of Customs data showed."
#China imported 6.88 million tonnes of #soybeans in September, the lowest volume for the month in 7 years. Poor crush margins – influenced by poor hog margins – are the suspected culprit. China's forward soybean demand continues to be a hot topic in the market. pic.twitter.com/BZCl1Unkg0

— Karen Braun (@kannbwx) October 13, 2021
The Reuters article indicated that, "China imported 73.97 million tonnes of soybeans in the first nine months of the year, down 0.7% from the same period last year, according to the data."
Meanwhile, a separate Reuters article last week reported that, "China's meat imports in September fell sharply from a year ago to their lowest in 19 months, customs data showed on Wednesday, as cheap domestic pork cut demand for overseas supply.
"China brought in 694,000 tonnes of meat in September, down 17% from the same month a year ago, according to the General Administration of Customs. Shipments in the first nine months of the year were 7.38 million tonnes, down 0.4% from last year's volumes, the data showed."
And in a more narrow look at beef trade between China and Brazil, Financial Times writers Bryan Harris, Emiko Terazono, and Edward White reported late last week that,
Authorities in Brazil are growing increasingly concerned over a Chinese ban on Brazilian beef which has lasted more than a month and threatens to decimate exports worth around $4bn per year.
"Brasília voluntarily suspended shipments of the protein to China — its largest market — in early September after confirming two cases of 'atypical' mad cow disease in separate meat plants across the country.
"Many expected Beijing would quickly resume imports after no further signs of the disease were detected in Brazil. The suspension, however, has dragged on for almost six weeks, fuelling growing consternation among Brazilian officials and its large meatpacking companies."
The FT article indicated that, "Chenjun Pan, a China agricultural sector expert at Rabobank, said she expected shipments to resume 'within the year.'
"'At the moment in China the pork supply is very sufficient, that could solve the problem [of protein shortages and substituting Brazilian beef]. Beef is not the staple animal protein, so for the Chinese government this is not the strategic animal protein supply.'"