he tech service team works to challenge current production protocols, evaluate new ideas and technology, and provide real data to make decisions. Utilizing actual sow farms, we can conduct large scale field research trials in actual production conditions. This helps to gain valuable information to implement in sow farms managed by Pipestone Management.
New products are introduced every day, and often we see over-promised technology, with little to no return on investment. It is the job of tech service to identify the biggest challenges in farms, or the easiest task to automate, and look for a solution to make the daily work more enjoyable for the team and the pigs we care for. In this context, think of tech services as the filter for which new technologies or ideas are adopted across the 68 sow farms managed by Pipestone Management.
When we think of innovation at Pipestone, we focus on bringing value in these five areas:
1) Work efficiency
2) Safety
3) Barn design and equipment
4) Welfare
5) New products
The testing process begins with a simple evaluation on paper:
What works well?
What needs changed to work on farm?
Ease of implementation?
After ranking the criteria above on a 1 to 10 scale, the products/concepts are sorted out and anything above a score of 5 moves into phase two testing.
Phase two consists of obtaining the product or technology and trialing in a sow farm. This combines the three criteria above with real world experience and staff feed-back. Often this phase also allows us to give feedback back to the manufacturer or developer to improve or modify to better meet our need. If this step proves successful, we conduct an economic analysis to evaluate the return on investment to the farm, driven by reduced labor, sustainability, improved production or other avenues.
A new product or technology can fail at any stage of testing, and it is our job in tech service to arrive at the point of "Yes, implement in the sow farm" or "No, send it to the product graveyard" as quickly as possible. In our view, the "did not work" products are just as important as the products we implement, because we are able to pivot and move to a new direction of focus instead of always wondering "what if?".
We are committed to future technologies, but also need to maintain a realistic perspective to help us prioritize our projects. Stay tuned for further updates! For specific questions related to tech service projects, contact Kiah Gourley at kiah.gourley@pipestone.com.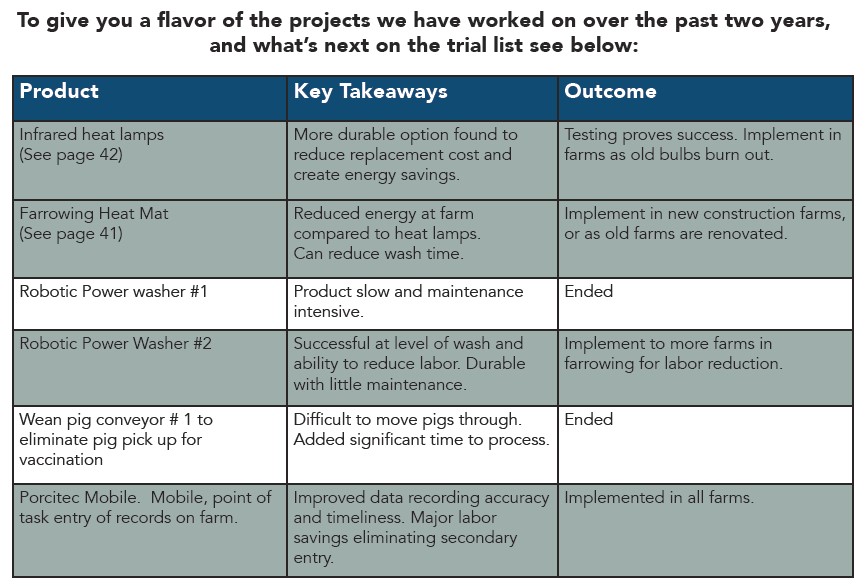 By: Dr. Gustavo Pizarro, Technical Service Director
gustavo.pizarro@pipestone.com