Financial Times writers Emiko Terazono and Michael Pooler reported this week that, "After enduring the worst drought in nearly a century followed by a bout of cold temperatures, areas within Brazil's farming belt are braced for further adversity as the La Niña weather phenomenon threatens to bring more dry conditions later this year."
"Brazil is an agricultural powerhouse and a leading exporter of commodities including corn, sugar, orange juice and meat, but this year's weather disruptions have led to soaring prices for coffee and sugar on international markets while giving bullish corn traders further fuel," the FT article said.
Terazono and Pooler explained that, "Brazil is the number two exporter of corn, which is mainly used for livestock feed, and many of its growers have also been affected by drought and frost. Analysts have downgraded their output forecasts, said Michael Cordonnier, a grain consultant focusing on South America.
"Because of the drought, farmers in some provinces planted a month or more later than normal, but then the frosts in July killed the corn at a crucial stage of growth, he said. Corn futures soared earlier this year, with prices in Chicago jumping to a near-eight-year high of $7.75 a bushel in May, although they have now fallen back to about $5.66 on better weather in the US."
The FT article stated that, "The weather damage is rippling out domestically in Brazil for farmers and consumers alike. A corn shortage for the livestock feed industry has forced it to turn to imports, with normal overseas purchases of about 1m tonnes expected to rise to 3.5m to 4m this year, said Cordonnier.
The corn shortfall will put further pressure on rising food prices, which is 'already a concern for the Brazilian government,' said Welber Barral, founder of BMJ consultancy. Brazil's annual inflation hit a five-year high of 8.6 per cent in mid-July.
Meanwhile, Bloomberg writers Tope Alake, Fabiana Batista, Pratik Parija, and Leslie Patton reported this week that, "Whether at supermarkets, corner stores, or open-air markets, prices for food have been surging in much of the world, forcing families to make tough decisions about their diets. Meat is often the first to go, ceding space to less expensive proteins such as dairy, eggs, or beans. In some households, a glass of milk has become a luxury reserved only for children; fresh fruit, once deemed a necessity, is now a treat.
"Food prices in July were up 31% from the same month last year, according to an index compiled by the United Nations' Food and Agriculture Organization. A portion of the rise is transitory, fueled by supply chain disruption and extreme weather. Although some of the bottlenecks caused by the pandemic show signs of abating, structural factors such as climate change and China's strong appetite for imports will likely endure."
The Bloomberg article pointed out that, "The sustained increase in prices for basic staples is making some governments nervous. Russia, one of the world's top grain exporters, began taxing wheat exports in February to stem rising prices at home, while Argentina in May temporarily banned beef sales abroad for the same reason. The surge has stirred memories of 2008 and 2011, respectively, when spikes triggered food riots in more than 30 nations across Africa, Asia, and the Middle East and contributed to political uprisings in the Arab Spring. 'Food fundamentally touches all of us,' says Cullen Hendrix, nonresident senior fellow at the Peterson Institute for International Economics, a Washington-based think tank. 'Everybody knows about the price of food and knows when it's increasing, regardless of whether or not they have any interest in politics.'"
Also this week, Bloomberg writers Hala Haj Taleb and Megan Durisin reported that, "Syria blocked imports of items ranging from cheddar cheese to cashew nuts and mobile phones as the war-torn country seeks to save its dwindling foreign currency reserves for purchases of wheat."
The Bloomberg article noted that, "The latest curbs also highlight the strain of rising crop prices on global buyers, especially in poorer, import-dependent nations. Wheat has rocketed in recent months after bad weather hit production from Canada to Russia. This poses a particular challenge for the Middle East and North Africa, the largest importing regions."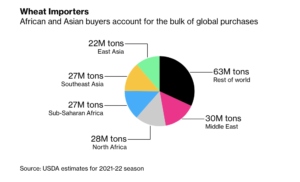 And as grocery costs for meats and poultry in the U.S. increased in July, Bloomberg's Leslie Patton reported this week that, "The owner of Burger King and Popeyes expects U.S. beef costs to climb this quarter as labor shortages across the country make it tough to staff meatpacking plants, according to an internal document.
"Restaurant Brands International Inc., which owns the Tim Hortons chain as well, also sees higher costs for key ingredients including pork that it uses for sausage and bacon, the company said in a July report that was viewed by Bloomberg News. According to the document, stimulus checks in the U.S. are reducing incentives for meatpacking workers to show up."
The Bloomberg article added that, "Labor shortages are adding to the challenges for the meat supply chain already grappling with higher feed costs for cattle and hogs, as well as swelling demand for meat from grocery stores and reopened restaurants."