Late last week, Associated Press writer Scott McFetridge reported that, "Thanks to a reworked menu and long hours, Jeannie Kim managed to keep her San Francisco restaurant alive during the coronavirus pandemic.
"That makes it all the more frustrating that she fears her breakfast-focused diner could be ruined within months by new rules that could make one of her top menu items — bacon — hard to get in California.
"'Our number one seller is bacon, eggs and hash browns,' said Kim, who for 15 years has run SAMS American Eatery on the city's busy Market Street. 'It could be devastating for us.'"
The AP article stated that, "At the beginning of next year, California will begin enforcing an animal welfare proposition approved overwhelmingly by voters in 2018 that requires more space for breeding pigs, egg-laying chickens and veal calves. National veal and egg producers are optimistic they can meet the new standards, but only 4% of hog operations now comply with the new rules.
Unless the courts intervene or the state temporarily allows non-compliant meat to be sold in the state, California will lose almost all of its pork supply, much of which comes from Iowa, and pork producers will face higher costs to regain a key market.
Mr. McFetridge explained that, "Animal welfare organizations for years have been pushing for more humane treatment of farm animals but the California rules could be a rare case of consumers clearly paying a price for their beliefs.
"With little time left to build new facilities, inseminate sows and process the offspring by January, it's hard to see how the pork industry can adequately supply California, which consumes roughly 15% of all pork produced in the country."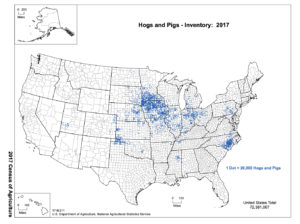 Last week's article added that, "If half the pork supply was suddenly lost in California, bacon prices would jump 60%, meaning a $6 package would rise to about $9.60, according to a study by the Hatamiya Group, a consulting firm hired by opponents of the state proposition."
California consumers are waking up to the realities of Proposition 12. One California consumer says, "It's kinda sad. It would be nice to know what we were voting for. I don't think anybody knows about this." https://t.co/zrpBUw4ytV

— NPPC (@NPPC) August 3, 2021
Meanwhile, Caroline Anders reported yesterday at The Washington Post Online that, "Breakfast lovers in California might soon be reaching further into their pockets to buy bacon and eggs. Animal rights groups say the reason behind the price bump is well worth it."
The Post article noted that, "The law, which has faced several legal challenges from the meat industry, also calls for other kinds of enrichment, such as perches for hens.
"Barry Goodwin, an economist at North Carolina State University, argued in an analysis for the National Pork Producers Council that these new rules will decrease farm productivity and unduly affect small hog farms, leading to consolidation in the industry as larger operations crowd them out."
This change lacks common sense & couldn't come at a worse time. These radical regulations essentially eliminate a key market for #IA01 farmers & will negatively impact consumers through price increases & potential shortages. https://t.co/fQV5nCRFgU

— Ashley Hinson (@RepAshleyHinson) August 3, 2021
"The North American Meat Institute brought the law before the U.S. Court of Appeals for the 9th Circuit, which ruled it was constitutional. In late June, the U.S. Supreme Court declined to hear the case, upholding the ruling," the Post article said.
Illinois is a leading pork producing State, and ranks fourth in pork production in the U.S. behind Iowa, North Carolina, and Minnesota.