Reuters writers Hallie Gu, Cheng Leng and Shivani Singh reported recently that, "China's October soybean imports from the United States fell sharply from the previous year, customs data showed on Sunday, hit by poor demand and limited exports.
"China brought in 775,331 tonnes of U.S. soybeans in October, down 77% from 3.4 million tonnes a year earlier, according to data released from the General Administration of Customs.
"Soybean shipments from the United States usually pick up in the fourth quarter of the year when the U.S. harvest gets underway and American beans dominate the market."
The Reuters article stated that, "Poor crush margins and price competitive Brazilian beans, however, have curbed Chinese crushers' appetite for American cargoes, traders said."
The article added that, "U.S. soybean exports also sank in September after Hurricane Ida flooded and damaged grain terminals and caused widespread power outages.
"China brought in 3.3 million tonnes of Brazilian beans in October, down 22% from 4.233 million tonnes in the previous year, the customs data showed.
Total shipments for the month of October came in at 5.11 million tonnes, down 41% from a year earlier, the lowest level since March 2020.
Meanwhile, in its November Livestock, Dairy, and Poultry Outlook report last week, the USDA's Economic Research Service (ERS) indicated that, "U.S. pork exports in September were 510 million pounds, down 6.3 percent from a year ago.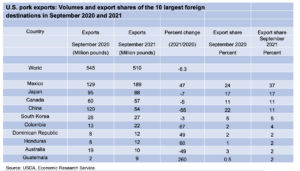 "Exports totaled 1.5 billion pounds for the third quarter, 5 percent lower than the third quarter of 2020.
ERS pointed out that, "It is notable that the United States exported 8 percent of its commercial pork production to Mexico in the third quarter of 2021, and that 58 percent of U.S. third-quarter exports were shipped to Western Hemisphere nations. U.S. pork exports in 2021 are expected to be 7.2 billion pounds, down 1.2 percent from 2020. The 2022 pork export forecast is unchanged at 7.4 billion pounds, a year-over-year increase of 3 percent."
And a report from the USDA's Foreign Agricultural Service (FAS) on Friday indicated that, "Mexico is the third-largest pork importer in the world and traditionally the largest U.S. market for pork exports by volume. Over the past few years, shipments to this important market have faced headwinds. First, retaliatory tariffs related to Section 232 actions disadvantaged U.S. product. Then the coronavirus pandemic and a weak Mexican economy weighed on demand."
"With retaliatory tariffs on pork resolved and economic recovery underway, U.S. pork shipments to Mexico recovered in 2021 and are expected to improve further next year.
In the second quarter of 2021, Mexico was the top international destination for U.S. pork, with shipments reaching a record high in August and again in September.
"With Mexican exports elevated and high feed prices keeping production growth moderate, Mexico has looked to the United States for product and will likely continue to do so. This comes at a critical juncture for the U.S. pork industry as Chinese demand is expected to remain below the record levels of 2020, renewing emphasis on traditional markets."
The FAS report noted that, "While economic recovery in Mexico has been slow and inflation remains a concern, pent-up consumer demand is expected to support pork consumption in 2021 and, in 2022, should allow U.S. exports to return to the rising trend seen before the pandemic."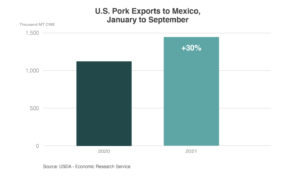 Friday's report added that, "In 2022, strong Mexican import demand is expected to push U.S. pork exports to record levels. Competition to sell product into many international markets will be fierce as Chinese import demand remains below the record levels of 2020, making Mexico particularly important going forward. Given its geographic proximity and existing trade linkages, the United States is well positioned to capitalize on growth in Mexican import demand."