Bloomberg News reported this week that, "China's hog population rose 24% in the year through May and has now almost fully recovered from the recent resurgence in African swine fever, according to the country's agriculture ministry.
"Herd sizes are close to normal for this time of year, Xin Guochang, an official at the ministry's animal husbandry bureau, said in an interview on state television. Meanwhile, around 3.5 million of low-productivity breeding sows were culled in the first five months of the year, he said, which should lead to an improvement in herd fertility."
The Bloomberg article noted that, "African swine fever devastated pig numbers in China in 2018 and there was a resurgence of the disease earlier this year. Domestic pork prices have fallen by almost half so far in 2021 to 22.45 yuan ($3.47) a kilogram amid weak demand and as farmers rebuilt their herds, keeping imports low and spurring a rout in the shares of producers like Muyuan Foods Co.and New Hope Liuhe Co."
The disease has been a variable impacting both pork trade and prices, as well as protein feed demand and soybean exports.
In related news this week, Reuters writer Dominique Patton reported that,
China's government-backed livestock industry body urged pig farmers on Monday not to panic as hog prices fell further and investors continued to sell shares in major producers.
"Live hog prices in the world's top pork consumer have plunged 65% since the start of the year as domestic production surged and huge volumes of imported pork reached the market.
"Some farmers, expecting prices to rise, had purchased almost fully grown pigs to fatten them up further, anticipating large profits."
The Reuters article pointed out that, "The warning followed a similar message from China's state planner last week.
"Farmers paid little attention to the advice however with average prices continuing to fall, hitting 13.05 yuan ($2.02) per kilogram on Monday, according to Shanghai JC Intelligence Co Ltd."
"Some analysts expect prices to keep falling," Ms. Patton said.
Earlier this week, Reuters writer Karl Plume reported that, "U.S. lean hog futures fell sharply on Monday, continuing a retreat from multi-year highs set earlier this month as cash pork prices dropped and worries increased about Chinese import demand for U.S. pork."
"U.S. pork export sales have also slowed somewhat in recent weeks, including to major importer China, where live hog prices are down 65% so far this year amid rising domestic production and a surge in pork import arrivals," Mr. Plume said.
With respect to U.S. feed grain and oilseed exports, Dow Jones writer Kirk Maltais reported this week that, "Export inspections of U.S. corn destined for China rose in the past week, the USDA reported Monday.
"In its latest grain export inspections report, the USDA said that China was the destination for 794,475 metric tons of corn for the week ended June 17, up from last week. In total, inspections of U.S. corn totaled 1.48 million tons, which is down from last week's report.
"Meanwhile, China's appetite for soybeans remained muted, with inspections totaling only 4,016 tons for the week. In total, soybean inspections totaled 175,359 tons, which is up slightly versus last week."
And Reuters writer Julie Ingwersen reported on Monday that, "U.S. farmers are poised to expand plantings of sorghum by nearly 20% this year, a far larger percentage than soy or corn acres, as the crop purchased mainly by China for use in animal feed and to make baiju liquor trades at a premium."
"A rally in commodity crops has been driven by Chinese imports of feed grains, as the country's hog herd recovers from a deadly pig disease. But continued demand is uncertain as China is also trying to reduce its reliance on imported crops like corn," the Reuters article said.
In a broader look at U.S., China trade developments, Bloomberg News reported on Monday that, "China's imports of American goods slowed again in May, putting the purchase targets agreed with the U.S. in the 2020 trade deal even further out of reach.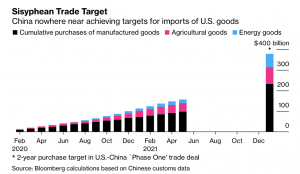 "China bought almost $10 billion worth of manufactured, agricultural and energy goods from the U.S. in May, the lowest monthly total since October 2020. That took total imports to almost $157 billion since January 2020, 41.4% of the targets the two nations agreed at that time.
"The slowdown was despite corn imports surging to a record in the month, with ships carrying the crop stuck waiting for weeks off China's coast before they could offload the crop. China is also buying agricultural products for delivery from later in the year, and these will bump up the totals somewhat once they actually arrive in China."