Bloomberg News reported on Tuesday that, "China imported a record amount of meat in March on supply concerns as hog herds in the world's biggest pork consumer struggled to recover from African swine fever.
"Total imports, including offal, topped 1 million tons, up 44% from February, after new strains of the deadly virus hurt hog numbers, particularly in the north. Shipments have been high for months, with ports unloading a record 10 million tons in 2020, 60% more than a year earlier, to augment local supplies."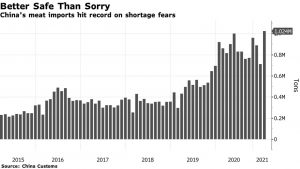 Also this week, Reuters writer Dominique Patton reported that, "China imported 1.02 million tonnes of meat in March, customs data showed on Tuesday, the highest monthly volume since at least January 2020, as the world's biggest meat buyer continued to stock up to fill shortages at home."
It comes as China's output of pork, its staple meat, continues to be affected by the deadly hog disease African swine fever, which reached the country in 2018.
The Reuters article explained that, "The large volume is likely a record, according to Pan Chenjun, senior analyst at Rabobank, and reflects the market expectation of a substantial shortage of meat after renewed swine fever outbreaks over the winter."
And a separate Bloomberg article from Monday reported that, "China's pork prices have slumped to the weakest in 19 months amid panic selling by farmers after fresh outbreaks of African swine fever and bans on the transport of live hogs in some parts of the world's biggest consumer and producer.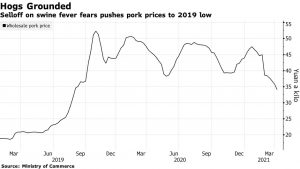 "Wholesale pork prices plunged 19% in the first quarter, the most since at least 2006, and touched 34 yuan ($5.20) a kilogram in early April, the lowest since August 2019. The selloff started in mid-January amid new outbreaks of African swine fever in some northern provinces and on bans by the south on live hogs from the north, said Zhu Liang, analyst with Chaos Ternary Futures."
Meanwhile, Reuters News reported earlier this week that, "China's soybean imports almost doubled in March from levels in the same month a year earlier, data from customs showed on Tuesday, as cargoes of beans from top exporter Brazil cleared customs after delays.
#China imported 7.77 million tonnes of #soybeans in March, up 42% on the 5yr average for the month. Jan-Mar imports of 21.2 million tonnes are record and up 19% on the year. Cargoes from both USA and Brazil were arriving at Chinese ports in March. pic.twitter.com/ND3UCSAjxm

— Karen Braun (@kannbwx) April 13, 2021
"China, the world's top soybean buyer, brought in 7.77 million tonnes of the oilseed in March, up 82% from a year ago, according to data from the General Administration of Customs."
China's soybean imports in the first three months of the year came in at 21.18 million tonnes, up 19% from 17.79 million tonnes in the previous year, according to customs data.
"China brought in 6.727 million tonnes of corn from Jan-March, up 437.8% from the previous year. Wheat imports in the first quarter rose 131.2% from a year ago, to 2.925 million tonnes," the Reuters article said.