Equipment needed to safely extricate livestock from trucks and trailers, move and contain animals following a transportation accident will be displayed and described in this section of the ERAIL course offered in-person by MSU Extension Oct 18, 2022.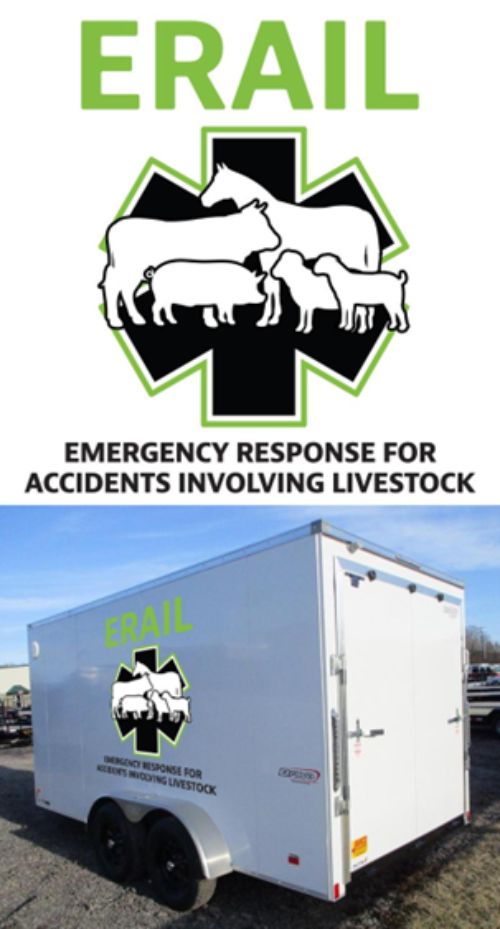 Millions of livestock animals are transported weekly in the U.S. The process of transporting animals comes with several risks including truck rollover accidents. These situations are often chaotic and bring risks to the safety of first responders to the accidents, the welfare of animals involved and the safety of the public traveling the roadways.
When transportation accidents involving livestock occur, mounting an effective response depends on having people on-staff who are trained and comfortable with handling animals. It also depends on having the right equipment available for extricating the animals from damaged vehicles, moving surviving animals away from the road/highway and containing them until a rescue vehicle can pick them up. Specialized equipment may also be needed to safely and humanely euthanize severely injured animals. Emergency responders to these situations occasionally have some of the animal skills needed to accomplish these goals. However, they rarely have the equipment needed to complete tasks safely and effectively.
To address the need across Michigan for rapid access to critical animal-handling equipment that can be moved to the scene of a transportation accident involving livestock, Michigan State University Extension has worked with emergency first responders across the state along with expert animal handlers to develop a standardized ERAIL Equipment Trailer. Theses trailers are equipped with portable gaiting/fencing, halters, sorting boards, ramps and other items first responders need to safely and effectively extricate, move and contain different species of livestock. ERAIL trailers have been deployed at three locations in Michigan (Branch, Jackson and Otsego Counties) where livestock hauling truck traffic occurs at high volumes on a daily basis. Local first responders have been trained specifically in deployment of the equipment. Plans are in-place for deploying 3-4 additional ERAIL trailers at key locations in Michigan.
The MSU Extension Emergency Response to Accidents Involving Livestock (ERAIL) team has been focused on providing training for first responders, law enforcement officials and others involved in accident response through multiple different medias and opportunities. This programming effort impacts Michigan's animal agriculture industry by preparing those involved in accident response for situations that could occur while transporting livestock. These efforts not only support the safety of first responders, they also protect the welfare of the animals involved in these situations and help provide for the safety of the public traveling the roadways. Further information on the ERAIL program and other preparedness activities supported by MSU Extension can be found by visiting the MSU Extension Agriculture Impacts webpage.
Additionally, on October 18, 2022, the MSU Extension ERAIL Team will host an in-person, hands-on training focused on increasing the skill set of first responders, law enforcement officials and others that may be involved in the response to an accident involving animals. As part of this training, attendees will be able to observe an ERAIL trailer and the equipment it contains, and learn details about its specifications, costs (trailer and equipment), and recommendations regarding trailer equipment and deployment.
This one-day Emergency Response to Accidents Involving Livestock (ERAIL) Training will be held at the MSU Pavilion for Agriculture and Livestock Education located at 4301 Farm Lane East Lansing, Michigan, 48824 and will start at 9:00 a.m. The cost of this training is $75 per person or $60 per person for groups of two or more; no refunds will be given after October 10, 2022, however substitutions may be made after that date. Registration is limited.
Registration information can be found by visiting the MSU Extension Events Calendar. Questions about the training can be directed to:
Beth Ferry at 269-876-2745 or franzeli@msu.edu
Dave Thompson at 517-279-4311 or thom1637@msu.edu
Tom Guthrie at 517-788-4292 or guthri19@msu.edu
Paola Bacigalupo-Sanguesa at 970-888-1356 or paolabs@msu.edu