Financial Times opinion columnist Rana Foroohar indicated yesterday that, "We know that the war in Ukraine has led to sharp increases in prices for both food and fuel. This in turn has sparked concern that we may see a repeat of the famine and food riots that took place in 22 countries in the years following the global financial crisis, caused by a perfect storm of rising commodities prices.
"While US wheat farmers should be in a good position to help buffer some of the pain from agricultural disruptions in Ukraine and Russia, they are worried about inflation of another sort — in fertiliser.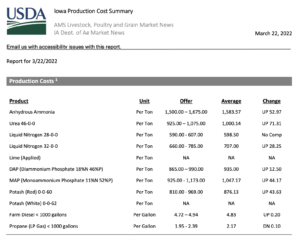 Foroohar stated that, "The war is part of that problem, too. Russia was until recently the second largest foreign exporter of fertiliser to the US, providing 10 per cent of the total supply. But it is not the only reason prices are rising.
"As a March 11 release from the US Department of Agriculture put it: 'Fertiliser prices have more than doubled since last year due to many factors including [Vladimir] Putin's price hike, a limited supply of the relevant minerals and high energy costs, high global demand and agricultural commodity prices, reliance on fertiliser imports, and lack of competition in the fertiliser industry.'"
With respect to food price inflation, Bloomberg writers David R Baker, Allison Nicole Smith, and Sheela Tobben reported yesterday that, "Global food prices set a record last month, according to the United Nations, as Russia's invasion of Ukraine disrupted shipments from the countries that, together, supply one-quarter of the world's grain and much of its cooking oil. More-expensive food may be frustrating to the middle class, but it's devastating to communities trying to claw their way out of poverty. For some, 'demand destruction' will be a bloodless way to say 'hunger.'"
And late last week, Reuters writer Bianca Flowers reported that, "Howard Dahl stopped taking farm equipment orders from customers as a shortage of parts and labor and escalating inflation threatened profits for his North Dakota-based firm Amity Technology.
"He did so even as high crop prices suggested strong demand for the sugar beet and silage machinery his company makes ahead of spring planting season.
"'Normally we begin selling equipment in early November,' said Dahl. 'Largely because of the uncertainty of the supply chain, we limited what we were going to build.'"
The Reuters article noted that, A shortage of raw materials saddled manufacturers with increased costs even before Russia's invasion of Ukraine sent gas prices sky-rocketing and darkened the global inflation outlook.
Now, overall costs of materials for Dahl have jumped 21% year over year through March while the price of steel has doubled, putting him in a delicate situation to price equipment and control costs.
Flowers pointed out that, "Farmer income is expected to drop by $5.4 billion from 2021, according to the U.S Department of Agriculture, as federal aid payments given during the pandemic ease. But tractor sales remained solid in February as farmers eye high crop prices, increasing 9.2% from the same time a year ago, the Association of Equipment Manufacturer's latest report showed.
"Still, inflation has companies weighing to what extent they can pass costs on to consumers. As prices of raw materials continue to rise, companies may need to find other alternatives to cushion the impact on big price-tag equipment like tractors and keep margins intact, analysts say."