In its October Livestock, Dairy, and Poultry Outlook report, the USDA's Economic Research Service (ERS) indicated that, "U.S. beef exports in August set a new record of 325 million pounds, an increase of 57 million pounds, or 21 percent, from a year ago. August's increase in beef exports was driven primarily by China's strong demand for U.S. beef. Gaining access to China's market in March 2020, coupled with China's low domestic pork supplies and Australia's limited exportable beef supplies, has worked in the U.S. favor.
Since July 2020, monthly exports to China have been record-large in 10 months. China is now the U.S. third-largest beef destination.
"The U.S. largest beef exports in August went to Japan, totaling 77 million pounds, up 10 percent from the previous year. Beef exports to Japan from May to August were 13 percent higher compared to the same period a year ago partially due to the lowering of Japan's tariff rate from 38.5 percent to 25 percent on April 17. Mexico was another key trading partner that contributed to the increase in beef exports in August; U.S. beef exports to Mexico were up 9.2 million pounds, or 49 percent, from a year ago when exports were limited by economic weakness in Mexico and Covid-19-related constraints. Year-to-date, Mexico's share of U.S. beef exports has been relatively stable at 9 percent.
"In contrast, lower year-over-year beef exports were shipped to four of the seven major U.S. beef destinations in August. Exports to South Korea, the second-largest U.S. beef destination, were 6.7 million pounds or 9 percent lower, accounting for the majority of the reduction among the major U.S. beef destinations. U.S. beef exports to Hong Kong were down 26 percent or 4.5 million pounds from a year ago, while key trading partners Taiwan and Canada were 2.9 and 1.6 million pounds lower year over year, respectively. The fourth-quarter forecast for beef exports was unchanged from last month. The annual beef export forecasts for 2021 and 2022 were also unchanged from last month at 3.414 and 3.270 billion pounds, respectively."
With respect to U.S. pork exports, ERS stated that, "U.S. exports were 526 million pounds in August, down just slightly from a year ago. Mexico and Japan together accounted for over half of August's shipments. Major export destinations in August are listed below.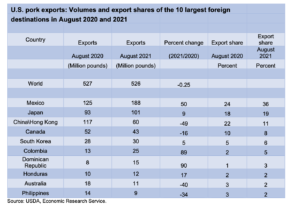 The Outlook explained that, "It is notable that China\Hong Kong's share of August exports declined from 22 percent in 2020 to 11 percent this year. The China Ministry of Agriculture's live hog price series show that prices declined to 13.45 yuan per kilogram in the third week of September this year—significantly below production costs and roughly equivalent to where prices were in 2018, shortly after African Swine Fever had been identified in Northern China.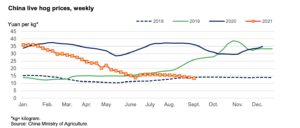 "Based on expectations that 2021 China pork supplies will reflect increased domestic production and reduced imports, U.S. export forecasts for the third and fourth quarters of 2021 are reduced by 25 and 110 million pounds, respectively. Total U.S. pork exports are forecast at 7.2 billion pounds, about 1.1 percent below exports in 2020."
ERS added that, "In recently released production, supply, and distribution data for China in 2022, USDA, Foreign Agricultural Service shows a 5-percent decline in pork production to 43.75 million metric tons (MT). To partially offset the decline, China's pork imports next year are expected to increase by more than 5 percent, to almost 4.8 million MT. Coupled with expected import growth in several other important markets, including Mexico and South Korea, U.S. pork exports are raised 105 million pounds next year to 7.4 billion pounds, almost 3 percent above shipments in 2021. Most of the 2022 increase is expected to occur in the second half of the year."