Wall Street Journal writer Josh Zumbrun reported last week that, "Beijing's commitment to step up purchases of U.S. goods and services under a 2020 trade pact expires Friday [December 31st] with China expected to miss its targets by a wide margin, creating a dilemma for the Biden administration as it calibrates a response.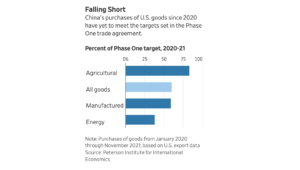 "The White House could potentially reinstate certain tariffs that were cut as part of the trade deal, but that could backfire if China cut back U.S. purchases or took measures against American companies doing business there.
"Alternatively, the U.S. could ignore the shortfall, which could send a signal to Beijing that it won't face consequences."
The Journal article pointed out that,
How the U.S. responds is being watched closely by U.S. businesses, many of which want smooth relations with China to ensure continued access to its giant market. Others including some domestic manufacturers take a harder line, citing Chinese government support for favored industries and saying the U.S. needs to nurture its own supply chains.
"Trade analysts say it's unlikely President Biden would escalate tensions with China as he seeks to tame inflation and advance his domestic agenda. But they also point out that President Biden has yet to articulate a clear strategy for dealing with Beijing."
With respect to agriculture, Mr. Zumbrun explained that, "With farm products in particular, China has ramped up U.S. purchases, helping to bolster prices for American farmers who had been hit hard by falling prices during the U.S.-China trade war.
"U.S. beef, pork and poultry producers exported record amounts to China in 2020 or 2021, while other farm exports were near records. In 2020, for example, China imported $14.1 billion of soybeans, just shy of the $14.2 billion record set in 2016.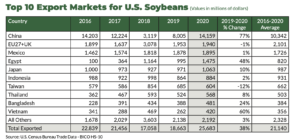 "Even so, the $57.4 billion of farm goods China bought from 2020 through November 2021 fall well short of the $73.9 billion needed to reach the target."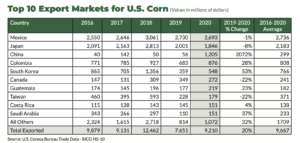 Recall that in October, the Biden administration begin defining its China trade policy, and U.S. Trade Representative Katherine Tai met virtually with Chinese Vice Premier Liu He as the executive branch kicked off its trade-policy engagement with China.
More recently, President Biden and Chinese President Xi Jinping held a virtual summit  in November; however, Washington Post writers Seung Min Kim, Ashley Parker, Ellen Nakashima and Lily Kuo reported at the time that, "Trade was raised, and Biden emphasized the need for China to uphold its commitments to buy additional goods from the United States, but it was not a 'dominant part' of the conversation, the official said."
Meanwhile, Reuters News reported last week that, "China's sow herd at the end of November was 4.7% higher than the previous year at 42.96 million heads, the agriculture ministry said late on Thursday."
The article noted that, "China has been rebuilding its pig herd after the deadly African swine fever disease, first detected in 2018 in the country, slashed its pig production."
News articles suggest that the pig herd rebuilding in China could bolster grain imports, as well as benefit U.S. corn exports.
Nonetheless, Bloomberg News writer Alfred Cang reported last week that, "China is looking to grant safety approval to more genetically modified (GMO) corn varieties by domestic producers, a move that could lead to commercial planting of these crops in the top corn buyer."
The Bloomberg article noted that, "The move comes as China's scooping up global grain supplies to feed its hog herd recovering from African swine fever. Corn imports soared to record levels, sparking a global price rally as investors were also worried about supply.
"Beijing has ramped up its focus on food security in the past year, including urging greater self-sufficiency in staple grains. In November, the agriculture ministry laid the groundwork for growing GMO soybeans and grains, such as rice and corn, on Chinese soil for the first time."
And this week, Reuters News reported that, "China's biggest soybean grower – the northeastern province of Heilongjiang – plans to increase the area planted to the crop by 10 million mu (666,667 hectares) in 2022, the official Xinhua news agency said on Sunday."
"The country's agriculture ministry told an annual central rural work conference last week that China should stabilise grain production, and to boost production of soybean and oilseeds," the Reuters article said.