Cindy Trask is the Vice President of African Swine Fever Planning and Preparedness at Maple Leaf Foods. As a 17-year company veteran, Cindy has filled a variety of roles within Maple Leaf Foods, leading teams and initiatives within both manufacturing operations and commercial functions, leveraging her skills in analytics, planning, and execution. Prior to joining the company, Cindy filled continuous improvement roles at both Canadian Standards Association and Canadian Tire.
Here, Cindy reflects on her career path at Maple Leaf Foods and her most recent role leading the company's efforts to plan and prepare for the possibility of the first case of African Swine Fever (ASF) in the Canadian pig herd.
Q: What led you to a career at Maple Leaf?
My career path has been interesting and challenging as I've filled various roles in many functions. In 2005, I had the opportunity to join Maple Leaf Foods when it purchased Schneiders to lead cross-functional merger initiatives. With varied experiences, and a career focus on continuous improvement, process thinking, planning, and execution, I was eager to contribute to Maple Leaf Foods' journey. I liked the idea of working for a leading Canadian company, but I would not have imagined that 17 years later, I'd still happily be here. I'm surrounded by a driven group of individuals in a company that has big ambitious goals!
Q: What has compelled you to stay for 17 years?
Maple Leaf is a fantastic, driven organization that believes in their people and supports their development. I've been blessed with many opportunities that have stretched my thinking and challenged me. Admittedly, there have been roles that I've been asked to assume over the years where I was pushed outside my comfort zone; we've all experienced those moments of self-doubt. Fortunately, I had a former boss once say to me, "The only one that questions whether you've got this, is you. Believe you can get 'er done. We do." I've reflected on that many times. The ongoing encouragement I've received and the varied opportunities I've been given are critical reasons that I've stayed and why I give everything I can to every role I'm in.
Family is also key to me. I'm married and I have two children, both now adults, but over the 17 years working at Maple Leaf, I was supported as a working mom with the autonomy to balance commitments personally and professionally. I never felt like I had to compromise one for the other, which was key to my overall happiness. Great companies and great leaders help employees find balance that innately increases drive and motivation.
Q: You hold the impressive title of Six Sigma Black Belt. What does that role entail and how does it impact the way you approach your work?
At Maple Leaf, our Six Sigma Black Belts are leaders who deliver results and integrate Six Sigma knowledge into their daily decision-making. A Six Sigma position can include leading initiatives, managing business relationships, problem-solving for projects, and developing Six Sigma capability in all team members.
I'm naturally curious and known for looking under those rocks that some prefer to leave planted. I have a strong desire for continuous improvement in all positions I've held. Being a Sig Sigma Black Belt has further influenced the way I approach a challenge, how I assess existing processes and analyze possibilities, to be methodical in my approach and to balance risks. Most importantly, Six Sigma Belts don't just analyze stats or assess improvements; they are there to coach, mentor, and influence those around them, a part of my role that I truly enjoy.
Q: Did you ever imagine when you started your career that someday you'd be the Vice President of African Swine Fever Planning and Preparedness?
Absolutely not. However, if I were to highlight two things I have learned over the course of my career, the first would be to expect the unexpected and the second would be that core skill sets developed over time can carry over to multiple roles. I never would have predicted that I would be leading planning efforts critical to our company in preparing to respond to an animal disease that could devastate the industry. I'm not the expert in animal disease response, but I'm surrounded by experience. I've learned to embrace the expertise of those around me and to leverage the skill sets I've honed over the years as we collaborate to develop critical, robust response plans should ASF arrive in Canada.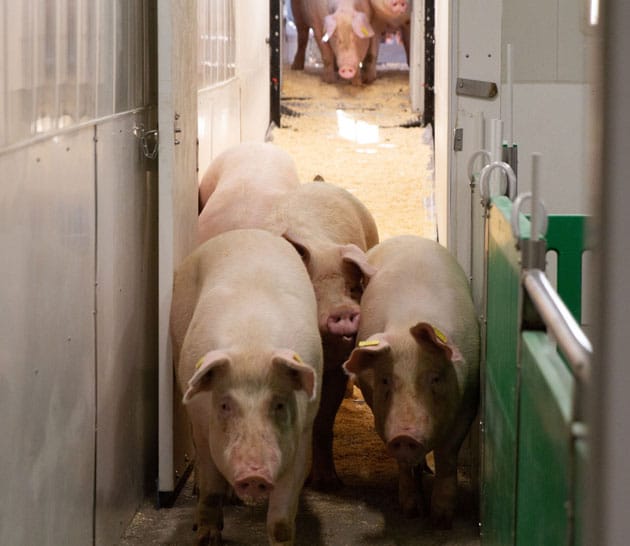 Q: What unique learnings has this latest role taught you?
John F. Kennedy once said, "Leadership and learning are indispensable to each other." As a team, we are continuously learning as ASF spreads, new advancements in science evolve, global reaction changes, and government and industry plans develop. I've learned to appreciate that learning is never over. There is just so much to explore and absorb.
Simplifying complex information is a difficult but crucial task! With so many aspects to understand and design as we prepare, this role has taught me the importance of keeping it simple to ensure understanding and buy-in.
With a large group of stakeholders, this role has emphasized the importance of persuasion. There is a multitude of agenda items, all important, some less urgent. Learning to create momentum in the right areas and increase engagement and support is key.
Q: What do you want the public to understand about African Swine Fever in pigs?
Although ASF is serious for pigs, it is harmless to people, pets, and other animals. ASF is a pig disease that has been recognized and studied for a century! There is NO food safety risk. People do not get sick from ASF and can continue to eat pork with confidence.
ASF has NEVER been discovered in Canada; however, our government and industry as a whole are working hard to develop proactive plans, so that we are well-prepared to respond in the event of an ASF outbreak. At Maple Leaf Foods, we are focused on partnering with key stakeholders to reduce the risk of ASF entering Canada and partnering with government and industry on key initiatives critical to our collective response. We are resourced to be ready with detailed action plans and clear accountabilities. I have confidence in our team's plan.
Q: What advice do you have for young women in the early part of their career?
There is so much to reflect on here, but a few highlights include:
Embrace every opportunity, don't limit your options. Push yourself outside of your comfort zone, be curious and believe in your capabilities!
Appreciate the journey — there is no race. The journey itself is remarkable and each experience is a chance to learn. You'll be shocked along the way at those experiences you never expected that lit your fire.
Leave a legacy. No matter how small, when you leave a role or an assignment, strive to leave it different than you inherited it. Every role comes with an opportunity to have impact on processes and people.
Find your balance. I'm a big believer in "Purposeful Balance" which simply means I recognize that at times I prioritize one thing over the other (personally and professionally) and it's OK as long as it's intentional and I re-evaluate from time to time.
Be authentic, true to who you are. Your journey is yours.