Global Market Report – South East Asia
Paul Anderson, General Manager South East Asia
Contact: paulanderson@genesus.com
Vietnam
Genesus exhibited at VIETSTOCK 2016 in Ho Chi Minh City, Vietnam last month. The VIETSTOCK 2016 Expo & Forum breaks another record with a registered 10,518 attendees coming from 39 different countries. With this result, the show has grown 23% bigger than the previous edition, officially making this year's show the biggest international feed, livestock & meat industry trade show in Vietnam. Genesus Vice President Mike Van Schepdael gave a very informative presentation (shown below) in the pig forum on Feeding in Lactation backed up by the trial results gained by the Genesus technical support team. We are pleased to report that Genesus enjoyed a busy and successful show with a very high volume of farm business owners and Directors visiting our booth.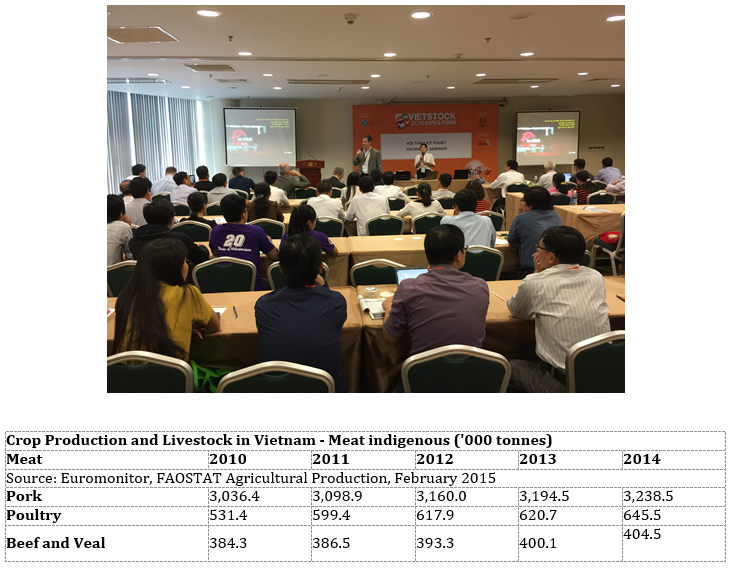 The agriculture sector employs 47% of the workforce in Vietnam and is estimated at around 18.1% of the nation's GDP. Agriculture's share of economic output is expected to decrease as the country moves toward economic modernization.
Doing Business in S.E. Asia
Genesus is increasing its sales of pure bred genetics (both live pigs and semen) in this region. We are seeing new customers planning to buy and existing customers returning to buy more. The next shipment of nearly 800 pigs to Vietnam is the fourth import for a current long standing customer. The reason why Genesus is growing sales is because of the genetics, The high appetite and calm nature of the Genesus pig is consistently increasing our Asian customers' PWSY, with many customers already achieving 28-31 PWSY, helped by the lower mortality and big weaning weights. They are also seeing reduced days to market. Our customers prefer the Genesus animals – a lot easier to manage and feed. In a hot climate, this is a huge advantage. The plan now for the next hot summer is to use Genesus, pigs with a proven large appetite to reduce the number of lost kilos in the hot months of the year due to restricted appetite.
Due to the increased activity in the Vietnamese Market, Genesus has taken on a Technical Sales Manager with vast experience in the pig industry to start on the 1st December 2016. This will be announced later this month.
If you would like to know more about Genesus please contact me:
Paul Anderson
Porc-Ex Breeding and Genesus Inc. Press Announcement
Porc-Ex Breeding and Genesus Inc. are pleased to announce that Porc-Ex Breeding will begin marketing Genesus Swine Genetics. Porc-Ex Breeding (based in Denmark) has been the major marketer of DanAvl (Danbred) swine breeding stock in several European and Asian countries. Genesus Inc. of Canada has the world's largest herd of registered high health prolific Yorkshire, Landrace, and Duroc Breeds.
"In order to continue the good cooperation that we have built up with our customers worldwide over the past 15 years, Porc-Ex Breeding has signed an exclusive distributor agreement with the Canadian breeding company GENESUS, on specific markets," said Holger B. Sorensen, CEO of Porc-Ex Breeding. "Genesus is the international breeding company which has the most modern and innovative philosophy regarding breeding objectives and sustainability in the pig production. For this reason, this genetic is well qualified to complement those of our DanAvl (Danbred) customers who want, or are forced, to change genetics."
"As a distributor for Genesus, Porc-Ex Breeding can offer all kinds of genetic products in the form of live animals, semen and embryos. Porc-Ex Breeding has – and will establish close cooperation with leading AI stations, in order to serve our on-farm replacement customers, multiplication- and production herds with the highest quality semen from the GENESUS breeding pyramid."
"In the nearest future, there will be established breeding and multiplication herds in Europe, so that Porc-Ex Breeding can serve our customers with genetic materials, produced locally in the areas near our business partners. At Porc-Ex Breeding, we look forward to continued productive cooperation with our customers, in order to optimize genetics and production results."
Jim Long, President-CEO of Genesus Inc., states that "The agreement with Porc-Ex Breeding creates the opportunity for more producers to get the benefit of greater profitability that Genesus Genetics brings to the pork industry. We are very proud that a market powerhouse, Porc-Ex, has chosen Genesus to enhance their customers' success."
Porc-Ex Breeding
T: +45 70208285
E: porc-ex@porc-ex.dk 
Genesus Inc.